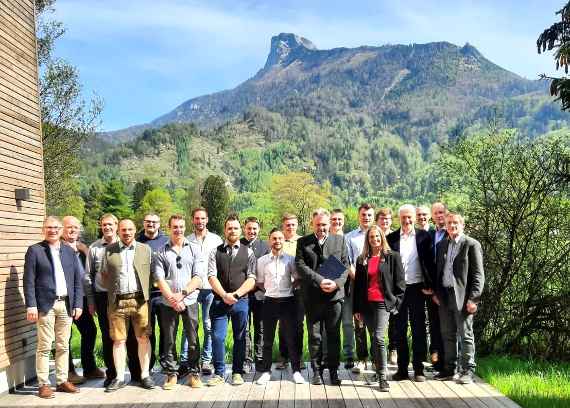 Due to the "smallness" of the industry, the training for the whole of Austria is concentrated in Upper Austria, with the specialist part taking place at the Federal Office for Water Management in Scharfling. After 3 years of extensive training, a total of 11 candidates from all over Austria took the master craftsman's examination on May 4, 2023 in the new fishery course building at the Institute for Water Ecology and Fishery Management in Scharfling. After successfully completing the highest level of training in fisheries vocational training, they may now call themselves "Master of Fisheries Management".
Knoop Moritz, who started his apprenticeship in the fish farm Kreuzstein and is now working in the technical advice for fishery of the government of Lower Bavaria, could graduate with excellent success. 5 other masters could be congratulated to a good success.
In the master thesis the participants dealt intensively with their (already existing or yet to be founded) businesses and developed a concept for their business project and the associated future orientation of their plants.
When awarding the certificates, the chairman of the district chamber of agriculture, Alfred Lang, focused on the importance of careful handling of the resource water. This careful handling has always been consciously pursued by the farming community, but especially of course by the agricultural sector directly dependent on it, fishing and aquaculture. The water in which the fish swims determines the quality of the product and thus the economic success of the producer.
The managing director of the Agricultural and Forestry Training Center Upper Austria, Ing. Brandstetter Johannes, praised the high-quality training in the field of fisheries at the Scharfling site - from apprentice to master craftsman and beyond in further and advanced training.
Also the director of the Institute of Aquatic Ecology and Fisheries Management, Mag. Dr. Hubert Gassner, who retired only a few days ago, referred to the constant development of the training - in constant, close contact with the industry itself - towards today's high quality standards, which thus also reflects the high demands of the aquaculture industry in its products.
The present commission members consisting of representatives of the Institute of Aquatic Ecology and Fisheries Management, the Agricultural and Forestry Training Center Upper Austria, the Chamber of Agriculture, the aquaculture industry (trout and carp pond management) as well as present guests of honor congratulated the newly graduated masters warmly and wished them all the best and much success in the implementation of their planned projects.
In the fall of 2023, the next master class will start.