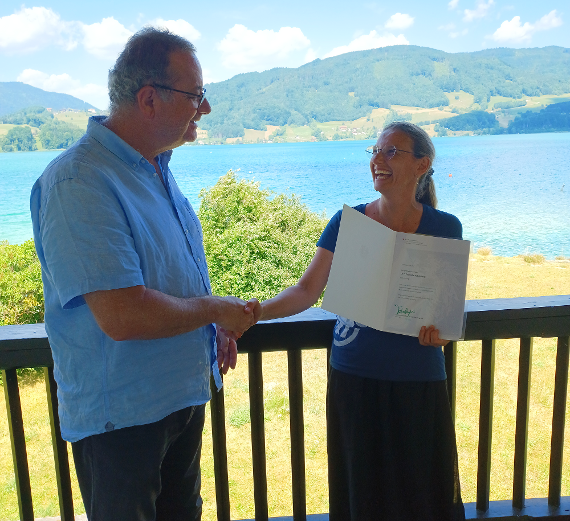 The Institute of Freshwater Ecology and Fisheries Management (IGF) is pleased to announce the appointment of Hofrätin Mag.a Dr.in Achleitner Daniela as the new institute head. She succeeds Hofrat Mag. Dr. Hubert Gassner, who retired on 01 May 2023.
The new institute head Achleitner Daniela brings a great expertise in the fields of aquaculture and aquatic ecology. Her career at the IGF began 24 years ago, where she worked extensively on fish ecological and limnological issues. During her time at the Department of Lake Science, she published numerous scientific papers, prepared management concepts and technical papers, and conducted standardized fisheries surveys. 12 years ago, she took over the area of professional fisheries education and training and successfully expanded it.
As deputy head of the institute and head of department, Achleitner Daniela has already proven her high motivation, her strong sense of responsibility, as well as her reliability. For many years, she has coordinated all her colleagues in designing courses and curricula and has worked closely with the entire team of the Institute of Freshwater Ecology and Fisheries Management. She will now further develop her institute with her appreciative and motivating leadership and lead it into a successful future.
The FAW is proud to have gained such a qualified and experienced personality as the new head of the institute. The IGF will continue to play an important role in the implementation of the EU Water Framework Directive in Austria, act as an important contact for all stakeholders in water management as well as aquaculture, conduct aquacultural research and guide technical education in the field of fisheries management in a forward-looking manner.
We congratulate Dr. Achleitner Daniela on her appointment.